What's New? – Recent Updates & Additions
June 17, 2018
I've posted the final results of my survey of the past week, in which I asked my site visitors how they feel about the importance of visual elements (as opposed to musical ones) as a factor in the success of the Pet Shop Boys. My new poll for the next two weeks—for, as previously noted here (and as I did last summer), I'm switching to a biweekly/fortnightly survey schedule for the next 2½-3 months or so—asks whether you think the Boys ought to put out a Disco 5 album at some point down the line: yes, no, or maybe depending on the nature of the track selection and, if the latter, which criteria strike your fancy. Thanks to porkchopkid for suggesting this question!
June 16, 2018
Thanks to Alex O'Brien—whom I've just added to my Thank You page—for pointing out that one of my bullet-point annotations to my commentary on "Shopping" was flawed in that former U.K. Prime Minister Harold Macmillan hadn't been opposed to Margaret Thatcher's privitization policies per se but simply disapproved of certain aspects of how they were implemented. I've now clarified what I write about it there.

Thanks also to Danny Bende for noticing that I had overlooked several place-names mentioned in the extremely obscure Pet Shop Boys live cover "Homosexuality"—namely Amsterdam, Fire Island, and San Francisco—although, curiously, I had already included Paris in my list of real places mentioned in the lyrics of PSB songs. I've now added those three places to that list as well. And since Danny reminded me just how obscure this particular remake of the old Modern Rocketry gay/dance cult classic is, here's a YouTube link to the Boys' live rendition.
June 14, 2018
Knowing from my page that lists my other favorite artists as well as from the results of last week's survey that I'm also a huge fan of the Beach Boys, a couple of my site visitors have written to ask whether I were aware of the new album The Beach Boys with the Royal Philharmonic Orchestra, which mixes classic Beach Boys recordings—not new recordings, but the originals—with new orchestral backing. Yes, I am indeed well aware of it.

To be honest, I haven't heard all of it yet, but I have heard more than half of its tracks. In fact, I recently wrote about it on my Facebook page, which I generally reserve for subjects other than the Pet Shop Boys. I suppose it can't hurt to reiterate here what I said about it there. In short, what I've heard so far doesn't strike me as actually bad, but it does strike me as singularly needless. In fact, the only track that I've even come close to finding of significant interest is its rendition of "Sloop John B," where the orchestra manages for once to sound more than superfluous. But I still think it all comes across as more than a little kitschy, pointlessly embellishing (if you can call it that) music that was already great pop art of the first order.

As I said on Facebook, it's like putting lipstick on the Mona Lisa.
June 13, 2018
Yesterday the Flag Counter routine on my home page recorded my first site visitor from the Balkan nation of Kosovo. So I've added that country (the independence of which is disputed, but recognized by a majority of nations, including both the United States and the United Kingdom) to my "A World of Pet Shop Boys Fans" page. And I extend a hearty welcome to my Kosovan visitor!

Having received his permission to do so, I've added Danny Bende's name to my Thank You page in recognition of his contribution yesterday (as noted in the second paragraph of yesterday's entry, below). Thanks again, Danny!
June 12, 2018
I'm indebted to the Pet Shop Boys Community Forum ("agent doris" in particular) for informing me that Neil, in his recent onstage "conversation" at Oxford University, said that he and Chris are currently working on a song titled "Give Stupidity a Chance." I've therefore added this title to my alphabetical list of unreleased PSB songs.

Thanks so much to Danny Bende (whom I believe to be a newer site visitor) for calling my attention to a strong rhythmic similarity between the "First Demo" of "Inner Sanctum" and the earlier PSB track "Sexy Northerner"—a similarity that the Boys saw fit to eliminate, for obvious reasons, in the Super album version of "Inner Sanctum." I've noted this in new bullet-point annotation to my commentary on the latter song.
June 11, 2018
I'm very, very pleased to notice that the excellent Pet Shop Boys Catalogue website is back up and running after having been "down" for a few days.
June 10, 2018
I've posted the final results of last week's poll, in which I asked my site visitors to choose their favorite "Boys" band (that is, a group with "Boys" or "Boyz" in their name) aside from the Pet Shop Boys themselves. This week's survey asks you to share your opinion of the relative importance of visual elements (as opposed to musical ones) as a factor in the Pet Shop Boys' success—however you define "success" for the purposes of this question.
June 8, 2018
Having obtained confirmation that Neil indeed appeared "in conversation" before a live audience this evening in Oxford, I've updated my "On This Day in Pet Shop Boys History" page to include this event.
June 7, 2018
I'm troubled that one of my favorite PSB fansites, Pet Shop Boys Catalogue, appears to be suspended, perhaps on account of its domain no longer being properly registered (although I'm not 100% sure about that on account of not being fluent in German, which is the language of the page appearing in its place as I type this). I hope this is only a temporary situation and that it becomes available once again very shortly.

A quick update: One of my site visitors wrote to suggest that the "outage" of the Pet Shop Boys Catalogue website may (emphasis on may) be attributed to the EU GDPR (European Union General Data Protection Regulation), which recently went into effect and which is apparently triggering similar outages for various other sites. I find this an intriguing possibility since the EU GDPR has been very much a professional concern for me. You see, in my "other life" as a corporate instructional designer, I was tasked with creating a training video to educate my colleagues—thousands of them around the world since I work for a large company—about the EU GDPR. The resulting 13-minute video debuted about a month ago. Since it's proprietary, however, I can't share it with anyone outside the company. At any rate, I hope the problems with the Pet Shop Boys Catalogue website (EU GDPR-related or otherwise) are ironed out quickly so that this valuable online resource soon becomes available again.
June 6, 2018
Thanks to Matthew from London for informing me an excerpt from the Pet Shop Boys' version of "Go West" served as a clue during yesterday's episode of the U.K. TV quiz show Richard Osman' s House of Games. I've now noted this in the entry for that song at #47 in my list of PSB songs used in non-musical films and television shows.

Thanks as well to Ryan Cannell for letting me know that English television personality and model Rylan Clark-Neal asserted recently on a radio program (the May 25 edition of BBC 2's Sounds of the 80s) that he is "the Pet Shop Boys' biggest fan." I imagine many of us might dispute him on that point, but his claim undoubtedly earns him a spot in my list of celebrity fans of PSB outside the field of music. And, yes, I do realize that Clark-Neal is indeed also a singer who enhanced his already growing notoriety by appearing as a contestant on the U.K. edition of The X Factor in 2012. However, he's no longer best known for his musical endeavors; thus he makes the list.
June 4, 2018
More than a month ago—I don't recall precisely when, but it couldn't have been too much longer ago than that—I noted here the remake of "Heart" by the Spanish metal band Stingers, which naturally I then listed on my page devoted to cover versions of Tennant-Lowe songs. But at the time I couldn't point you to any full recordings of it online. That has now changed. Thanks so much to Daniel Dannypannic for letting me know about the new music video for the Stingers' spin on "Heart," which you can watch on YouTube. With its wealth of religious imagery—it's even set in a church!—it's almost as if they had their hearts set (bad quasi-pun intended) on "It's a Sin" but wisely decided against it considering how metal renditions of that particular song have collectively become the single biggest cliché in the history of other artists adopting PSB tracks as their own. So (my somewhat warped theory goes) they settled on the next best thing: making a video for "It's a Sin" but performing "Heart" instead. Or is that just horribly cynical of me? Whatever the case, it's really not half-bad, which is indeed a compliment coming from a man who generally doesn't have much use for post-seventies metal.
June 3, 2018
I've posted the end results of my survey of the past week, in which I asked my site visitors whether they agree with Neil's assessment that "It Doesn't Often Snow at Christmas" is the best song that he and Chris wrote in the 1990s. My new poll for the week ahead isn't so much a "PSB survey" as one about PSB fans—specifically you, my site visitors. From time to time I like to see what other music you like in addition to the Pet Shop Boys. But my survey service provider doesn't permit polls with open-ended responses. So I always need to find some means of limiting the choices. I recently thought of a fun one that serves as the basis for this survey: what, aside from the Pet Shop Boys, is your favorite "Boys" band—that is, a group with "Boys" (strictly plural, not singular) in its name? Those of you familiar with my other favorite artists can surely anticipate my own vote. But now I'd like for you to weigh in as well.

By the way, I am planning on switching for most of the summer, as I did last year, from weekly polls to biweekly polls, each lasting two weeks. But I won't be starting that special summer schedule for another couple of weeks—not until the survey that begins June 17, which is much closer to the actual first day of summer (at least here in the Northern Hemisphere). I hope you won't mind that temporary scaling back of my "PSB polling" activities.

One of my site visitors wrote yesterday to express concern about the "prolonged period of silence" that the Pet Shop Boys appear to have entered. He was worried that it was a "bad sign." But, on the contrary (as I replied to him), I believe it's instead something we fans should be very pleased and excited about. As Neil himself told an interviewer a little more than two weeks ago, he and Chris are (or at least were at that time) in Berlin working on new music. This extended silence suggests they're working on a lot of new music. And that, of course, points toward a new album in the works, though it's too soon to say whether we'll be hearing it later this year or sometime next year. In short, this, in my opinion, is a classic case of silence indeed being golden. As has always been the case in the past, our patience will eventually be richly rewarded.
May 31, 2018
Guess what – yet another metal band has covered "It's a Sin"! This time it's the Swedish group Ghost (for legal reasons, "Ghost B.C." in the States—or if you wish to use the band's own preferred orthography, Ghosʇ with an upside-down t), who include their rendition on a bonus 7-inch disc that accompanies the release tomorrow of their latest album Prequelle. I've of course now noted this on my page that lists remakes of Tennant-Lowe songs. And if you would like to hear their take on the song for yourself, it's available on YouTube.

Maybe it's just my admitted bias showing, but don't these things all start sounding pretty much alike after a while?
May 27, 2018
I've posted the final results of last week's poll, in which I asked my site visitors whether they believe the Pet Shop Boys ought to participate at some point in the annual Eurovision Song Contest. I had been planning on saving the question for this week's survey for this coming Christmas season, but decided it would work just as well now as then: do you agree with Neil's assessment (expressed in the booklet accompanying the recent reissue of Nightlife with bonus tracks) that "It Doesn't Often Snow at Christmas" is the best song that he and Chris wrote in the 1990s? Thanks to Raymond for suggesting this terrific question!

I've learned that, once and for all, the upcoming (July) new album by Years & Years, Palo Santo, will definitely not include "Dreamland," lead singer Olly Alexander's songwriting collaboration with Chris and Neil. It's unfortunate that there's still no word as to when it will indeed emerge. I find this a bit troubling in that, barring legal problems or other matters beyond their control, artists would—at least I would think they would—be quite eager to release tracks that they personally regard as first-rate. Does this then mean that Olly and/or his bandmates lack confidence in the song? Does it mean that there's some disagreement as to who should actually release it? It seems most likely, however, the song simply doesn't fit with the album's underlying concept, which reportedly concerns "a genderless dystopian society populated by androids." Whatever the case, I've accordingly updated my placeholder entry for this unreleased song.
May 26, 2018
Some friends have made last-minute plans for me that will force me to be a little later than usual switching from my current survey to a new one, but I hope I won't be more than one or two hours late. That's been happening a lot recently, but it just goes to show that, no, my life does not revolve around this website—at least not totally. But, then again, this poll has been short-changed by starting a day late, anyway, so I guess it's only fitting that we give it another hour or two. Whatever the case, I apologize for any inconvenience.

Meanwhile, I've decided to go ahead and add the new special issue of Classic Pop devoted to the Pet Shop Boys to my list of books about them. (Thanks to Eddie Xavier for the nudge.)

I'm grateful to Andre Cobb for letting me know of a recent news story that earns a spot amongst my "Strange But True Incidents Involving the Pet Shop Boys," although in this case it's only a paraphrase of PSB lyrics in relation to the New York City subway system. That's good enough for me. Thanks, Andre!

And thanks as well to John McFadden for telling me about a new takeoff on "West End Girls" that aired on Irish radio just yesterday. Titled "West End Hurls," I've added it at #46 to my list of performance parodies of the Boys. For my money it's really not much of a "parody"—but, then again, I'm not sure what else to call it. Maybe I'm just too removed from the subjects involved. Regardless, if you would like to hear it for yourself, it's posted online.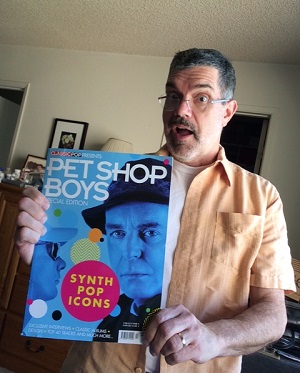 May 23, 2018
Look what was waiting for me in the mail today, two weeks and two days after I ordered it online: the new special issue of Classic Pop devoted to the Pet Shop Boys! Cool! Good thing I don't have any special plans this evening—well, at least I didn't have any until now.

Incidentally, I'm not sure whether this deserves a place on my "Books about the Pet Shop Boys" page. After all, it's a magazine, not a book. But it is a very special "one-off" publication that's lengthier than some of the books already listed there. So I'll have to decide one way or the other over the next day or two.

May 22, 2018
Thanks so much to leesmapman for letting me know about some music from the late 1980s that earns a spot at #26 (though the number actually has little if any significance) in my list of performance parodies of the Pet Shop Boys. It's a couple of songs by a group of German musicians who called themselves the "Sex Shop Boys." If you would like to hear these tracks of, as I've put it, dubious taste—"Big Tits" and "69"—you may do so on YouTube here and here, respectively.

I extend thanks as well to Raymond for alerting me to a typo—a missing decimal, now properly inserted—in the results I posted yesterday for last week's poll.

Further thanks to Charmaine C, who hails from the same part of England as Neil Tennant and who shared an interesting bit of information that provides a marvelous illustration of how people's own backgrounds and experiences color their individual interpretations of a song—the specific song in this case being "West End Girls." I've now noted this delightful anecdote in a new final bullet-point annotation to my commentary on the song. Thanks again, Charmaine!

And one final round of thanks for today to Steve N. for informing me that during Saturday's "royal wedding" of Prince Harry and Meghan Markle, the music that was playing as the bride walked up the aisle was Handel's Ode for the Birthday of Queen Anne—which just happens to be the classical composition that served as the musical basis for the Pet Shop Boys' song "Hold On." As Steve observed, this would suggest that, at least to some extent, Harry and Meghan share the musical tastes of Chris and Neil.
May 21, 2018
I've posted the final results of my survey of the past week (technically, eight days), in which I asked my site visitors to pick their favorite Pet Shop Boys song whose title includes the word "You." This week's poll is rather timely considering the recent conclusion of the 2018 Eurovision Song Contest. In short, I'm asking whether you believe the Pet Shop Boys ought ever to participate in the Eurovision Contest. Thanks so much to Frode Dahl for suggesting this question!
---